When searching for an Acupuncture and Traditional Chinese Medicine program it is important to look for programs that will help you optimize your success long-term. To help you navigate the process, we put together a list of academic and institutional benefits that AOMA's Acupuncture and Traditional Chinese Medicine programs offer to help you reach your highest level of success.  
1. Regionally/Institutionally Accredited Universities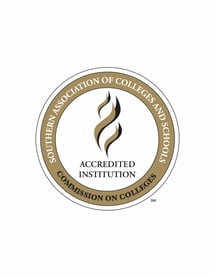 Schools that have been regionally or institutionally accredited have been approved by the accreditation board and are bound by this accreditation to follow a set of shared rules and values across a certain geographical location. In the south, The Southern Association of Colleges and Schools Commission on Colleges (SACSCOC) is the body for the accreditation of degree-granting higher education institutions, such as AOMA. It serves as the common denominator of shared values and practices primarily among the diverse institutions in Alabama, Florida, Georgia, Kentucky, Louisiana, Mississippi, North Carolina, South Carolina, Tennessee, Texas, Virginia and Latin America and certain other international sites approved by the SACSCOC Board of Trustees that award associate, baccalaureate, master's, or doctoral degrees. Its mission is to assure the educational quality and improve the effectiveness of its member institutions. In addition to being institutionally accredited by the SACSCOC, AOMA is also programmatically accredited by the Accreditation Commission for Acupuncture and Herbal Medicine (ACAHM). To read more about all of the accreditations AOMA abides under head to the Accreditations tab on our website!
2. California Accredited Universities
Schools that have both Regional/Institutional and California Accreditations allow students to have a wider set of choices when it comes to picking where they want to practice. The California Acupuncture Board is a regulatory body under the California Department of Consumer Affairs (DCA). The Board's legal mandate is to regulate the practice of Asian medicine through acupuncture in California and is the sole issuer of acupuncture licenses in the state. Their mission is to protect the people of California by upholding acupuncture practice standards through the oversight and enforcement of the Acupuncture Licensure Act. Only individuals who obtain a degree through California Accredited universities can obtain licenses to practice in California. AOMA is accredited by the California Acupuncture Board, and graduates of AOMA's master's program are eligible to practice in all US states with an acupuncture practice act.

3. International Partnerships
Acupuncture and Traditional Chinese Medicine are practices that have been utilized all over the world for hundreds of years. Creating a space for student and faculty members to continue to learn from individuals both internationally and locally fosters a deeper and richer understanding of the practice and its applications. AOMA maintains multiple international partnerships, including a partnership with the Jiangsu Province Hospital of Traditional Chinese Medicine, which enables our students to engage in virtual clinic experiences with doctors at a major Chinese hospital. Additionally, since April 2021 AOMA has partnered with Dr. Huang Huang of the Jingfang Institute, where he has served as a visiting scholar and professor at the university. Following the success of this partnership in September of the same year, the two universities—Nanjing University of Chinese Medicine and AOMA Graduate School of Integrative Medicine—signed an official letter of cooperation making AOMA the first school in the South to partner with the honorable Jingfang Institute. To read more about this partnership head to our blog post on the subject here.

4. Local & Community-based Partnerships
Clinical-based learning is a large portion of your learning process during acupuncture school. Attending a university that works with multiple community clinics and healthcare spaces gives you the ability to have a more diverse learning environment and experience. For over a decade AOMA has worked with countless community groups in the Austin area, such as the McCarthy Community Clinic, the Peoples Community Clinic, and the Austin Veterans Affairs outpatient clinic. Through these experiences, students have come to have a greater understanding of the importance of community-based health care, and so have even transitioned into working within a community care clinic or community-based health field after their experience doing so at AOMA.

5. Alumni Success Rate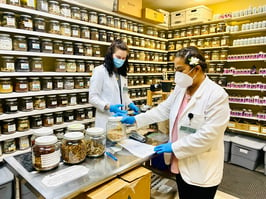 Alumni success rate can be a great model to showcase how a certain university is helping to assist and foster potential careers for their students. It can also provide a gauge for how individuals in your field are experiencing their new career lifestyle. In 2020 it was reported that roughly 85% of AOMA's alumni had received their license within two years of finishing their program and within that group, 61% of AOMA's alumni members reported feeling fulfilled or very fulfilled with their career life after finishing their graduate program. Many universities also include Alumni specific resources on their website to provide graduates with access to library materials and in some instances even job postings. Head to AOMA's Alumni section of our website to see more of the resources we provide to our alumni members!

6. Student-to-Staff Ratio
Being able to interact with and ask questions of your professors and teachers is a pivotal part of many individuals' learning process. A lower student-to-staff ratio can be helpful in ensuring you can communicate more readily with the individuals you are learning from. At AOMA we have a 12:1 student to faculty ratio for our masters and a 4:1 ratio for our DAcCHM doctoral program. This allows us to keep our class sizes down, and really pay attention to the questions and concerns of our students during their time on campus.
Lastly, the most important tip to remember is that the best school is the one that fosters your ability to learn and makes you feel heard and well supported during your time in the program. Doing research on prospective programs is a great way to ensure you are making the best decision for you.